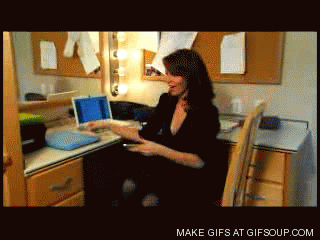 So, I am terrible at all things athletic. Hand-eye coordination is a skill that I do NOT possess. In fact, in college during an Intro to Dance class I took, mostly for an easy A, my instructor told me that I need to learn to be more 'delicate and graceful', while prancing around the class, attempting to learn the predesignated moves. No joke, I was simply awful at dance class and all athletics, in general; that was, until last night.
(Side Note: Later, I was so overwhelmed with worry about my lack of grace that I had a conversation with the Intro to Dance instructor and asked her if my grade would suffer because I am not a docile dancer. I was assured that my grade would not be impacted by my utter lack of gentle motions. It was not. My grade was, more or less, a reflection of my ability to not give a fuck about Intro to Dance, at all. However, that is another story entirely.)
Last night, after my Row Sculpt class, the instructor asked me if I rowed while in high school and college. After looking around for a moment, to see who else this man could be speaking to, I realized that the instructor was, in fact, directing his question to me. I quickly responded and told him that I had not rowed in the past. He then told me that I had excellent form and he was surprised that I had not done this type of physical activity previously. Naturally, I was shocked by his observation.
So, I 'gracefully' said to him, "Oh, thanks, I think my body has just really responded well to this type of exercise." I awkwardly giggled and aggressively walked away, stunned with excitement that someone thought that I did an athletic activity correctly. I was now someone who had 'excellent form'. Instead of being someone who cannot gingerly prance on the dance floor, I am someone who dominates a rower. I am a total bad ass, lean and mean rowing machine. My new found ability to master, at the very least, one physical activity has taught me this:
You just never know when you are going to be one decision away from realizing that you have a mad skill set just waiting to be unleashed. Who knows, maybe you too can become a prodigy rower!  Totally kidding, I am not a prodigy rower, but it is really important to try new things and just say YES to new adventures. If I never would have made the choice to get up at 5:30 a.m. to try this new rowing class, I would have never realized that I actually have muscles in my back. I would have never known how much I love group exercise classes. And, most importantly, if I had not said yes to trying something new, regardless of my lack of grace, I would have never known that I had a dormant skill set that makes me feel wildly empowered.
Also, FU Kent State dance instructor, my shit is on point and chalk full of all kinds of fucking grace.